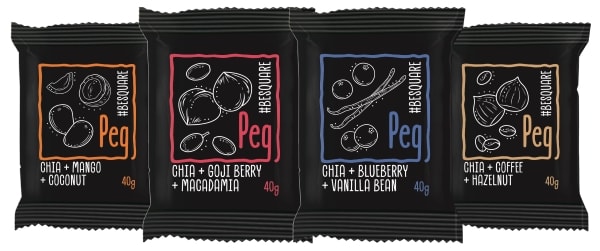 Peg, the newest brand from Freedom Foods Group, offers a range of plant-based energy bars made with chia seeds, cashew butter and whole grain oats. Developed with simple, natural ingredients and not a date in sight, Peg keeps you fuelled for longer with a balanced mix of protein, fibre, and good fats.
Designed for millennials whose lives are brimming with activity, Peg is a substantial snack to keep you going between meals. Packed with flavour, each 40g bar comes in a unique pocket sized square format. You may not commit to a square meal but you can commit to a square peg.
Available now in four delicious variants: Chia + Mango and Coconut, Chia + Goji Berry and Macadamia, Chia + Coffee and Hazelnut, and Chia + Blueberry & Vanilla.
Eat square. Be square. Energy2
For more information contact info@freedomfoods.com.au or call 1800 646 231