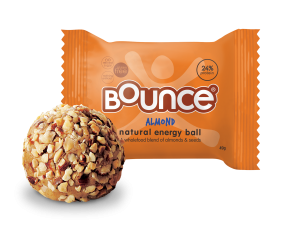 Bounce has the perfect treat just in time for Autumn, the Bounce Almond Protein Ball.
The orange packaging is distinctive and contains an Almond Protein Ball packed with natural energy to keep you moving.
Bounce Foods nutritionist Susie Burrell said: "As the weather starts to cool, it's easy to throw your new year health goals out the window".
"Bounce's Almond Protein Ball is the perfect snack and size to throw into your bag when you're tight on time or need a pre-gym boost," Ms Burrell said.
"This ball is packed with 12 grams of high-quality protein, including the king of nuts, which are key ingredients to keep you fuller for longer.
"All of Bounce's Protein Balls are the smarter way snack; the ingredients are clean and natural. Also, being cold pressed means the nutrition is preserved."
Benefits of Bounce's Almond Protein Ball include:
• 12g high protein
• All natural ingredients
• A tiny 0.8g saturated fat
• No refined sugar
• Gluten free
• Cold pressed – preserving the natural nutrition derived from ingredients
Bold and a little nutty, Bounce's Almond Protein Ball is the snack for autumn.
Punching above its weight, the Almond ball has the optimum balance of high-quality proteins, complex carbohydrates and unsaturated fats. These unsaturated fats help to lower the risk of heart disease, and maintain normal cholesterol.
Bounce's Almond Protein Ball is available through distributors with an RRP of $3.49