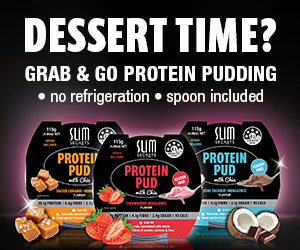 FEEL FIT AND FAB WITH OUR MINI PROTEIN BARS
NEWNESS ALERT!  Our Fit & Fab mini protein bars have just gotten fitter and fab-er These sweet, triple layer coated bars have the incredible taste and macros you expect from Slim Secrets and so much more.
There are two flavours to choose from, CHOC PEANUT & CARAMEL FUDGE. CRÉME CARAMEL Each flavour has a chocolate or white chocolate coating, a sweet, gooey layer of caramel and protein core. Every 28g bar has around 9g of protein, 2g carbs and less than 100 calories.
With a 4.5 and 5 health star rating between the 2 flavours these are the perfect convenient protein snack for those on the run or to keep handy in the car, desk, bag or pantry when working out or just when that hunger strikes.
We can't wait for you to try our newest protein bars that dares to be heavenly sweet and sinfully nutritious.
For more information contact info@slimsecrets.com.au or call 03 98223121
Website: www.slimsecrets.com.au