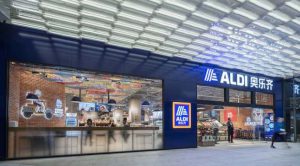 Much-loved German retailer Aldi has opened its first store in China, opening two prototype stores in Shanghai.
According to MarketingMag, the prototype stores were designed in line with Chinese consumer habits, which include doing multiple small shops per week.
Key departments within the small-format stores included snacks, produce, bakery, alcohol, imported goods, health and beauty.
An Aldi spokesperson told MarketingMag: "Our two new stores are designed as pilot stores where retail approaches will be trialled and adjusted according to data and feedback from customers. This new store format has been customised and tailored specifically for the China market to better understand and interact with Chinese consumers".
The two Aldi stores have an on-site Food station as well as ready meals to take away or eat at the in-store dining kiosk.