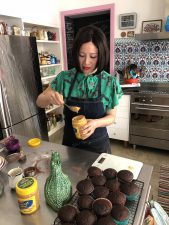 Australia's favourite Peanut Butter*, Bega Peanut Butter, has joined forces with some of Australia's most loveable, iconic faces in their newest social media campaign.
In July 2017, Bega acquired the Peanut Butter factory in Port Melbourne, and the original never oily never dry Peanut Butter recipe Australian's have been enjoying for more than 55 years. As part of the acquisition, the Aussie owned company has made a public commitment to continue to support Australian farmers and jobs.
Bega, an Aussie favourite, has partnered with other Aussie favourites – household names we all know and love – who are backing Bega Peanut Butter and the work Bega continues to do here in Australia.
Made in the Port Melbourne factory for more than 55 years, Bega Peanut Butter and its partners are encouraging all Australians to show their support for locally owned products, as Bega has always done.
Larrikin and family man Brendan Fevola; TV sweetheart and presenter Georgia Love; fitness entrepreneur, model and all round Aussie chick, Steph Claire Smith; AFL legend Nic Naitanui; Masterchef alumni and loved cook, Poh; and AFLW pioneer, Moana Hope have all pledged allegiance to the peanut butter they have grown up with.
From spreading Bega Peanut Butter onto their toast every morning, adding it to a delicious smoothie or cupcake or eating it straight of the jar, all of these Aussie favourites continue to show their support for the much loved spread, Bega Peanut Butter.
Facing adversity at some stage in their lives, all six household names have worked through their hardships now feeling stronger and better than ever, thanks to their family, friends and the backing of the Australian community. That's why they're putting their support behind Bega – because supporting your 'mates' is what Aussies do best!
As part of Bega Peanut Butter's latest campaign, each week a video will be released featuring one of the Australian personalities, sharing their personal stories and challenges and how, with the support of the Australian public, they overcame it. The campaign will kick off with entrepreneur Steph Claire Smith, and AFLW star, Moana Hope.
West Coast Eagles star ruckman, Nic Naitanui says, "Despite the setbacks I've faced in my footy career, I've been lucky enough to have Australia support me both on and off the field, which is why I dedicate a lot of my time to helping those who really need it.
That's why I'm backing another Australian favourite, Bega Peanut Butter!"
Bega Executive Chairman, Barry Irvin says the company is committed to investing in the Australian peanut industry, with the purchase of the Port Melbourne Peanut Butter factory, and more recent the Peanut Company of Australia.
"Australian peanuts are in high demand, and as mentioned, Bega is committed to supporting Australian farmers so they're able to increase the number of peanuts grown and harvested each year in Australia. By 2020, we're looking to increase this by 30%," says Mr Irvin.
Bega Peanut Butter General Manager, Adam McNamara says 'we're thrilled to partner with these Aussie personalities and have their support for Australia's favourite peanut butter, Bega Peanut Butter." So, it's important Australian's continue to support the original, never oily, never dry Bega Peanut Butter they've been supporting for decades!
*based on scan sales, at MAT 30/09/2018