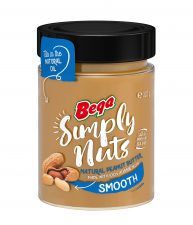 Dedicated to creating Australia's favourite Peanut Butter, Bega is excited to officially launch Bega Simply Nuts – a delicious and 100% Aussie made natural peanut butter with peanuts from the sun-ripened crops of Queensland.
Since acquiring the Original Peanut Butter recipe in 2017, Bega has worked with Aussie farmers to grow and harvest only the best Australian peanuts. The new Bega Simply Nuts product showcases this and is made with only two ingredients, 100% Aussie peanuts and a pinch of sea salt…that's it!
Picked, roasted and milled to bring out the natural oil and flavour, Bega Simply Nuts delivers the best quality, goodness, and most importantly, taste.
The recipe and exciting new product has been developed to accommodate the changing palette of the savvy and health conscious Australian consumer. Nowadays, most shoppers are looking for a naturally good option without having to compromise on taste. Bega Simply Nuts does just that. Being 100% natural and made with just two ingredients, Aussie peanuts and a pinch of sea salt, it's a compelling solution.
"We are thrilled to officially launch Bega Simply Nuts, a delicious and natural peanut butter we have been developing for some time now. It will play a distinctive role in our portfolio and will offer Australian consumers a simple solution when they're shopping at their local supermarket,' said Bega Foods Executive General Manager, Adam McNamara.
"We are committed to supporting our local farmers and proud to be producing Bega Peanut Simply Nuts with 100% Australian peanuts."
Bega Simply Nuts will offer Australians a tasty and naturally good peanut butter that is easy to spread, very low in salt and slow roasted to bring out the delicious flavour. And, in even more exciting news, the product will be available in Australian favourites, Smooth and Crunchy, as well as a delicious new style, Rustic Grind (just like homemade). Our Rustic Grind style contains just 100% Aussie peanuts, there's nothing else.
With no artificial colours or flavours, rich in Vitamin B3 and good fats and a source of protein, Bega Simply Nuts is a delicious gluten free snacking option that uses 100% Hi Oleic peanuts, which put simply, means the peanuts are higher in monounsaturated (good fats) versus regular peanuts. But what's even better, the taste hasn't been compromised in any way…it's simply delicious!
Officially launching in March 2019, Bega Simply Nuts will be sold in a 325g glass jar which encourages consumers to re-use or recycle the jar once they have enjoyed the product.
Bega Simply Nuts will be available at all major supermarkets, so be sure to head in-store to experience a simply delicious natural peanut butter with 100% Aussie peanuts and a pinch of sea salt. That's it!