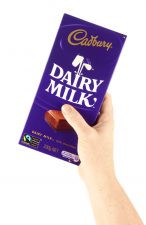 The Cadbury factory in Hobart is set to shed around 50 workers from the factory in a bid to become more globally competitive.
Mondelez, Cadbury's parent company announced recently that a tenth of the workforce from the factory would leave by the end of 2017.
Mondelez area vice president Amanda Banfield said it can be difficult to compete with overseas markets considering Australia's distance.
"Increasing local and global competition, low domestic growth, rising costs, and Australia's distance from overseas markets make it difficult to compete against the likes of European factories with lower costs," she said.
"To remain competitive, we need to improve our conversion costs by 30 per cent."
The job cuts come as part of a $75 million investment program in an attempt to stay globally relevant.
A statement from the company said it will be able to realise more efficiencies through investing in technology and equipment.
"[It will also] increase the skills and capabilities of its people and ensure its teams are the right size," the statement said.
"It does mean that around 50 of the 450-strong team will be leaving the business by the end of the year, with the majority likely to be voluntary redundancies.
"All redundancy conditions of employees' workplace agreements will be met along with substantial outplacement support."
The Tasmanian manufacturing plant was the first Cadbury operation to be set up outside of the UK and has been operating for 95 years.
The Australian Manufacturing Workers' Union said Cadbury should have looked to axe managers first, before moving straight to frontline workers.
John Short from the union noted the large impact that would take place across the wider community."Fifty jobs, so 50 families are going to be affected by these job losses," he said.
"Fifty jobs, so 50 families are going to be affected by these job losses," he said.
This announcement comes not long after Cadbury and Mondelez made known their plans to remove the Fairtrade logo from their chocolate blocks and replace it with their own Coca Life scheme.