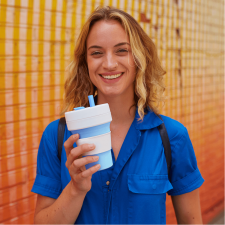 Stojo- the perfect on-the-go collapsible coffee cup, will be on display at this year's C&I Expo in Sydney.
The team at Kitchen Homewares Australia the (exclusive distributors of Stojo) said their mission is to help bring an end to disposable culture.
"Big change comes through small, purposeful, incremental steps with some days harder than others. But the truth is, a small change in personal behaviour can make a big difference to our environment and refilling a Stojo with your daily coffee can save 365 disposable cups from land fill every year.
Stojo is the perfect coffee cup, able to expand and collapse in seconds with a leak-proof lid and BPA free.
Stojo coffee cups are recyclable and made from food-grade silicone to withstand both hot and cold beverages.
Available in two sizes – pocket cup 12oz 355ml perfect for hot beverages and – biggie cup 16oz 470ml perfect for juices, smoothies and bubble tea.
Stojo cups can also be co-branded to suit retailer's needs.
Make sure to visit Stojo at C&I 2019.