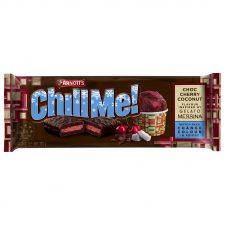 Arnott's Tim Tams have once again joined forces with Gelato Messina to bring another range of iconic gelato inspired flavours.
The flavours include:
Choc Cherry Coconut
Iced Coffee
Turkish Delight
The new flavours were launched on January 26th with the suggestion they are best served chilled.
Not only does putting the Tim Tams in the fridge keep them cool and make them more enjoyable to eat, but the heat-sensitive packaging changes colour as the temperature changes.
Tim Tam Marketing Manager Claire Kesby-Smith said: "After the huge success of the first range of Tim Tam by Gelato Messina we knew we couldn't make this a one-off partnership".
"Tim Tam is Australia's favourite chocolate biscuit and with the help of the gelato experts we've created three new flavours best served straight from the fridge to keep Aussies cool as the temperatures rise this summer," she said.
Gelato Messina Co-Owner Declan Lee said: "We were thrilled to be approached by Arnott's again and embark on some brand-new Tim Tam flavour experiments".
"We've delved deep into our gelato flavour bank and, after the popularity of last year's range, we knew we had to come back with some exciting new combinations! Anything 'chilled' is our department, so after taste testing the new flavours many times, we're all agreed, they taste even better straight from the fridge," he said.
The new range will be available nationwide from February 5th, priced at $3.65 per packet.